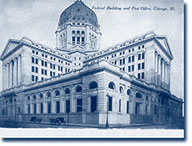 In April 1965, the United States Courthouse in Chicago was demolished to make way for the current courthouse.  Designed by Henry Ives Cobb, the old courthouse was completed in 1905.  Plans for a modern steel building were deemed insufficiently dignified; the massive structure instead was classical in style, with a two-story base, four six-story wings, and a central rotunda topped by a monumental dome.  The old courthouse housed the U.S. Court of Appeals for the Seventh Circuit until 1938 and the U.S. District Court for the Northern District of Illinois until the building's demolition.  During that time, the courthouse saw some of the nation's most sensational trials, including the trials of Al Capone and James Hoffa.  As imposing as the courthouse was when built, however, by 1964 time had passed it by.  A Chicago Tribune article in 1960 described the building as a "granite octopus doomed by the loop of progress."
The new courthouse was completed in 1964 on a site directly east of its predecessor.   Designed by Ludwig Mies Van Der Rohe, the $35 million block-long building rises thirty stories on a skeleton of structural steel, supported by concrete caissons extending to rock one hundred feet below sidewalk level. The structure is sheathed in a curtain wall of steel, aluminum, and bronze-tinted glass. The entire ground level area is paved in granite, extending to the lobby as interior paving and onto the elevator core walls.  In 1970, the building was rededicated in memory of Senator Everett McKinley Dirksen who represented Illinois in the United States Senate from 1950 to 1969.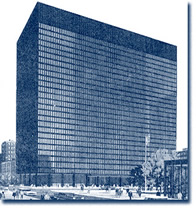 The Everett McKinley Dirksen United States Courthouse houses the United States Court of Appeals for the Seventh Circuit, the U.S. District Court for the Northern District of Illinois, and the U.S. Bankruptcy Court for the Northern District of Illinois, as well as the Office of the United States Attorney and the Circuit Library.  Originally designed with 15 courtrooms, today the Dirksen Courthouse has more than 50.
The Dirksen Courthouse forms part of a larger federal campus that includes the 42-story John C. Kluczynski Building, home to the offices of numerous federal agencies, and the Loop Station U.S. Post Office Building.  Both buildings were  completed in the mid-1970s and were built on the site that the old federal courthouse had occupied.  Located on the plaza adjacent to the Kluczynski and Post Office Buildings is "Flamingo," a 54-foot tall metal sculpture by world-renowned sculptor Alexander Calder.